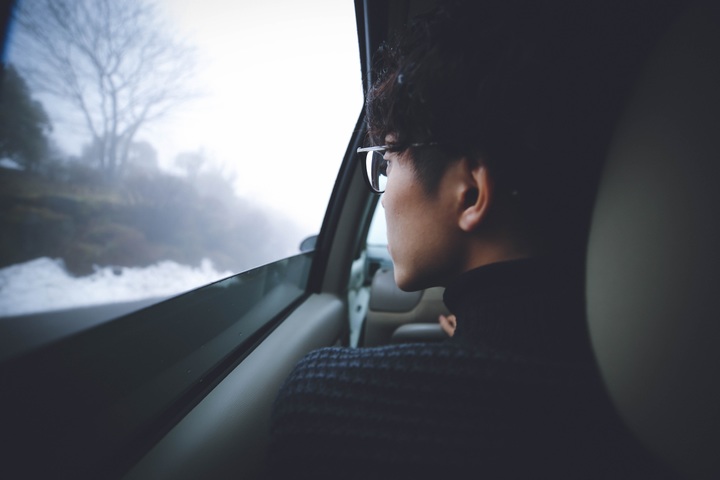 A morning field awaits the gaze
                  of summer's ripening sun. Here resting on our fingertips, a precious chord of life
An old mind, a new heart; we have erred sometimes
feigned insights, unripe tugged and muddied comprehension
ripped chasms thoughtlessly and nearly consumed our journey. Then Love snatched once more our souls from illusion
placed us in sunlight and in stillness we ripened to fruition
I feel vibrations from long felt gusts at my fingers
Arriving at yours in a frown, as green fields passed by. You didn't see the smile reflected in the window
caused by dark curls dancing on your tan shoulders
or hear the prayer for when you succeed in full display,
and you, too, feel your past reverberate.
trumanity, 25 Aug 2018
---

Photo Look Out of the Window, Fog, Sunlight Darkness Free Image from – PxHere, CC0
Sold at news-stands Painted on billboards Heard on the news until you sleep Where it lies, lies the truth Truth lies and life is lived Life buried in the untethered heavily chained in the material yet they choose to fly in spirit It thrives in the havens of the living A hand reaches and one responds Daringly, unsanitized All lies before them, and there's no effect. Truth racing in hearts grasp then tug away, and clutch again. Those who thirst most, dare most Reclaim everything and offer nothing for compromise.
trumanity, 14 Dec 2021
---
Photo Two Hands About to Hold, Greyscale, BRA by Rodolfo Clix – Pexels, Free to Use Also @cent
#
poetry
#
middaywalks